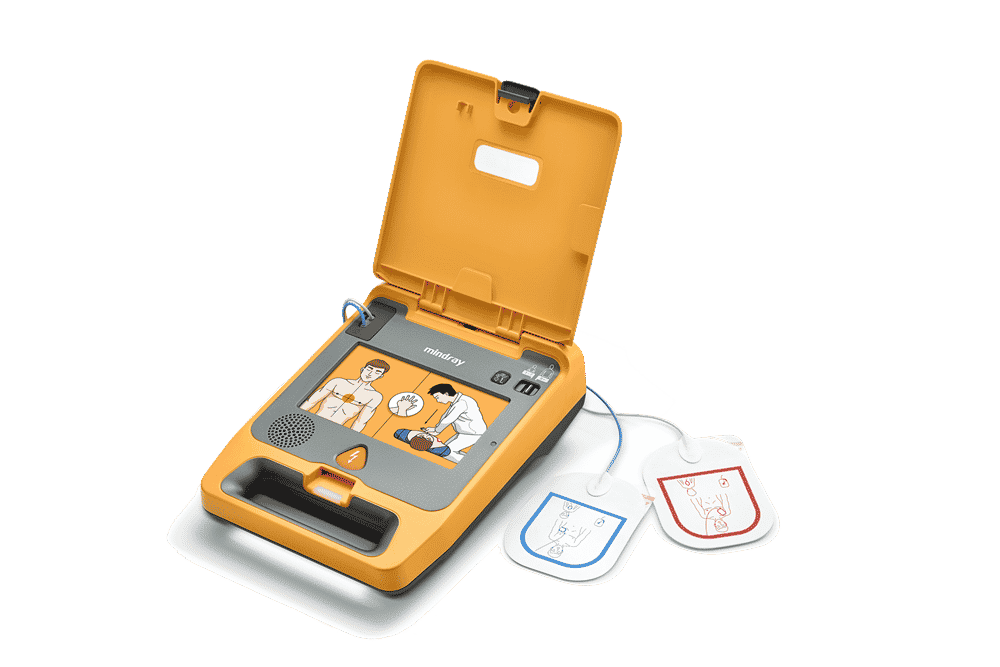 You don't have to be a fireman to use a fire extinguisher, and you don't have to be a paramedic to use a defibrillator and save a life.
You have made the right decision to investigate providing a life-saving defibrillator for your community/business. Calon Hearts pride ourselves on providing the full PAD package – from assistance & support throughout the ordering process and beyond, initial and ongoing CPR & Defibrillator awareness training. We offer CPR &Defibrillator Training with a minimum of £100 donation to our charity.
1. LOCATION
The first step prior to any defibrillator installation is to find the best location to site it. A number of factors including high footfall and relative ease of access to equipment should it be required in an emergency situation. Village Halls, Pubs, Disused Telephone Boxes are good locations to consider given they are normally centrally located to act as the hub for a community. Any public access defibrillator (PAD) site will need a PowerPoint for the defibrillator cabinet, this keeps the defibrillator at optimum temperature during the colder months as the defibrillator has its own internal battery. To register the location of your defibrillator so the ambulance service knows where to find it, please visit: MAS app and https://www.goodsamapp.org/aed
2. EQUIPMENT
We provide the best defibrillator on the market- the Mindray Beneheart C1A. This defibrillator is dual functioning – a simple switch changes the device from adult to child mode with dual-electrode pads, meaning there are no switching pads. This saves precious time when in an emergency situation. The device comes with an 8-year manufacturer warranty, and the defibrillator battery has a standby lifespan of up to 5 years.
The first step in assessing which equipment will be fit for purpose is to have an idea of where the unit may be located. For instance, IP65 Stainless Steel cabinets when going outdoors will weather for years to come but may not be necessary for an indoor location or Telephone Box. To see which cabinet may be suitable for you please refer to our Cabinet Types.
3. COST
Firstly, no price can be put on a life and the value of a defibrillator but a rough estimate incorporating a complete defibrillator and cabinet range from approximately £1000 – £1800* depending on the equipment chosen.
*Please note that installation is not included
The last cost to consider is the electricity for powering a defibrillator cabinet and the replacement of the battery. We advise that this should be very low, around £10-£30 per annum dependent upon climate. The electricity is needed to heat the cabinet to eliminate the possibility of the electrodes freezing in winter. The battery will need changing every 5 years costing around £120-£160 depending upon the model of Defibrillator.
4. TRAINING
Calon Hearts provides a training awareness session as part of a PAD package. Hour-long sessions provide a thorough understanding of basic life support, with a special focus on the science behind life support which has stimulated an interest in the health service. By passing on our experience and skills we will give the students the confidence to deal with medical emergencies and ultimately help in saving lives. We suggest a min £100 donation for the CPR session.
5. FITTING THE CABINET – ELECTRICIAN REQUIRED
A qualified Electrician will be required for the installation of outdoor cabinets.
The installer must be able to produce a certificate to state that the installation has been done to British Standards (Usually a BS7671, but can also be referred to as a Minor Electrical Installation Works or Electrical Installation Certificate).
Calon Hearts provide installation instructions for each cabinet type to assist with installation.
6. TIMESCALE
Whilst there is no accounting for how long the fundraising stage may be, upon confirmation of an order we aim to provide the equipment within 14 working days. Once the installation is complete, we will then register your site with your local ambulance service. Training is generally booked a few weeks after delivery and the trainer will check your defibrillator.
7. REGISTER YOUR DEFIBRILLATOR
Once you have your defibrillator, please register it with: Welsh Ambulance Service and The Good Sams App, these national defibrillator databases are to ensure your local ambulance service are aware of the location of your defibrillator, so they can direct responders to it in case of an emergency and the location of your defib. The MASS app will also give the public easy access to the whereabouts of their nearest defib.